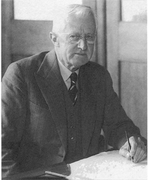 The W E Alexander Open is the Club's annual prestige event which is contended by the state's and district's leading amateurs. The event is a State Vardon Event is named for Mr W E Alexander, a long-time distinguished President. Mr Alexander was President from 1927 to 1951.
Some of this country's most outstanding golfers have competed in and won this tournament. They include: Peter O'Malley, Lucas Parsons, L Wooodward, Leigh McKechnie, Nathan Green and Col Johnston to name but a few.
The W E Alexander Open at Waratah Golf Club started as a 2 day 36 hole event in 1952 as a Pro Am contest for local club professionals and leading NSW amateurs.
It is named in honour of W E (Bill) Alexander, who served as WGC President from 1927 to 1951.
The first 3 winners were Bill Shephard in 1952, Sid Cowling in 1953 and Col Johnston in 1954. Col, former WGC junior and Pro Shop trainee, has been the champion on no less than 8 occasions.
From the early 1960's until 1998 the Alexander Open was expanded to also include professionals from outside the local area. Many leading players were victorious over this period. Some noted winners were Ken Johnston, Ray Carlin, Len Woodward, Peter O'Malley, Lucas Parsons, Kurt Linde and Paul Sheehan. Former WGC juniors Leigh McKechnie (won 3 times) and Nathan Green (won 4 times) dominated the event from 1989 to 1998. Since 1999 the event has been a 54 hole contest, over 3 days, with the field being restricted to amateurs only. In 2009 the event reverted to a 36 hole format.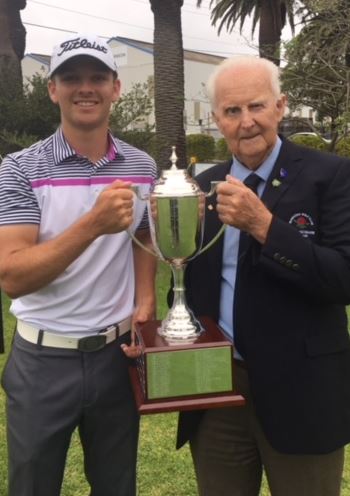 2017 Concept BSG W E Alexander Winner Blake Windred with WGC Patron Col Johnston. The Master and The Apprentice Col has won 8 and Blake 3. WEAs.
| | | | | | |
| --- | --- | --- | --- | --- | --- |
| Year | Name | Year | Name | Year | Name |
| 1952 | W S Shephard | 1977 | C Johnston | 2002 | L Bates |
| 1953 | S Cowling | 1978 | B Boyle | 2003 | A McKenzie |
| 1954 | C Johnston | 1979 | B Boyle/G Tozer | 2004 | M Brown |
| 1955 | H C Pilcher | 1980 | R Carlin | 2005 | R Blizzard |
| 1956 | R Stockwell | 1981 | R Carlin | 2006 | R Blizzard |
| 1957 | C Johnston | 1982 | R Carlin | 2007 | G Scott |
| 1958 | B Baker | 1983 | C Parker | 2008 | B Smith |
| 1959 | C Johnston | 1984 | J Parker | 2009 | B Smith |
| 1960 | K Johnston | 1985 | P O'Malley | 2010 | B Smith |
| 1961 | C Johnston | 1986 | R Payne | 2011 | M Ellison |
| 1962 | C Johnston | 1987 | N Bell | 2012 | D Papadatos |
| 1963 | C Johnston | 1988 | P Payne | 2013 | B Windred |
| 1964 | K Hughes | 1989 | L McKechnie | 2014 | D Brandt‐Richards |
| 1965 | K Hughes | 1990 | L Parsons | 2015 | M Lister |
| 1966 | P Bennett | 1991 | L McKechnie | 2016 | B Windred |
| 1967 | F Belle | 1992 | L McKechnie | 2017 | B Windred |
| 1968 | T Mangan | 1993 | N Green | 2018 | B Windred |
| 1969 | T Mangan | 1994 | K Linde | 2019 | Corey Lamb |
| 1970 | K Johnston | 1995 | P Sheehan | 2020 | Luke Ferrier |
| 1971 | K Johnston/B Boyle | 1996 | N Green | | |
| 1972 | C Johnston/P Turner | 1997 | N Green | | |
| 1973 | L Woodward | 1998 | N Green | | |
| 1974 | P Mangelsdorf | 1999 | N Goodchild | | |
| 1975 | J Munro | 2000 | A Price | | |
| 1976 | L Oliver | 2001 | C Campbell | | |